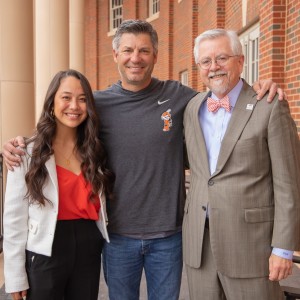 Wednesday Mar 23, 2022
Episode 34: Robin Ventura, Part 1
On this episode of The Buzz on Business, Alexis Hightower and Dean Eastman sit down with Robin Ventura.
Robin is a former professional baseball third baseman and manager. He played 16 season in the MLB for the Chicago White Sox, New York Mets, New York Yankees and Los Angeles Dodgers. He was also the manager for the White Sox for five seasons and was selected by the White Sox with the tenth overall pick in the 1988 amateur draft from OSU.
Now, Robin is a student assistant for OSU Baseball.
Robin, Alexis and Dean talk about Robin's reason for coming back to OSU, his experience from college when he first came to OSU to now, and more!
Follow us on social media!
INSTAGRAM https://www.instagram.com/spearsbusinessosu/
FACEBOOK https://www.facebook.com/SpearsBusinessOSU
TWITTER https://twitter.com/SpearsBusiness
LINKEDIN https://www.linkedin.com/company/8349243/admin/